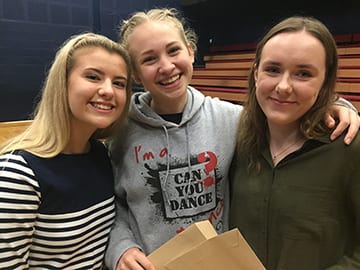 Students from across the Diverse Academies Learning Partnership, a multi-academy trust based within the East Midlands, today celebrated A Level results day.
Across the group, there was an overall pass rate of 89%, with academies who have been with the trust for 3 years or more achieving an average higher pass rate of 96%, demonstrating the longer term impact of the trust.
Debbie Clinton, acting CEO, said: "We're absolutely delighted with this year's results, in what have been challenging circumstances for the sector following curriculum and exam reforms. Our staff have worked tirelessly to ensure our students are well prepared – leaving our academies with the skills and life experiences necessary to move onto higher education, employment or further training.
"Our students are at the heart of everything we do and we want each to aspire to be the very best they can be. Our teams of educational and support staff are passionate about the children and young people of our communities, and it's always a pleasure to celebrate their successes with them. We wish all our students the very best in their onward journey and look forward to welcoming them back to inspire others in the near future."
Across the Diverse Academies, there have been many individual success stories, including East Leake Academy head boy, Daniel Moore who achieved A*s in business and economics and an A in mathematics, securing him a place at Warwick University to study international management. Daniel said: "I'm so pleased – and relieved! I've got my first choice university place and I'm really excited about studying international management. I worked really hard, but you just never know. I couldn't have achieved this without the support from my teachers."
Jake Benson, also of East Leake Academy, secured a golf scholarship with RICE University in Houston, Texas, USA and is already in the States.
National Church of England's top performing student was Hollie Bidwell, who achieved a hugely impressive set of results of A*, A*, A*, A and will be going to study business and marketing at Nottingham Trent University.
David Mafullul of Tuxford Academy gained four A* grades and is one of a number of students going on to study medicine from the academy. David will be taking up a place at Cambridge University and said: "I'm so happy, and extremely proud of myself, I've worked hard to achieve this. I can't wait to start at Cambridge."
Holgate Academy student Fynn Lithgow achieved A*, A, B, B and will be the first in his family to go to university, where he will do a film studies course following a gap year. He said: "I really enjoyed my time in the sixth form – the teachers were fantastic and helped me achieve my goals."
Further successes included Walton Girls' High School Molly Penford, who achieved 2 A*s in art and photography and B in psychology, and is going to study art and textiles at Leeds University. And Kiera Pulfrey, also from Walton, secured an apprenticeship as a teaching assistant.
Jessica Williams, a student at Queen Elizabeth's Academy, achieved a distinction* in business, double distinction* in health and distinction in childcare, and is going on to study a degree in health and social care at Bishop Grossteste University. Jessica said: "It's been a nerve wracking wait for the results, but I'm really pleased with my grades and excited about starting university."
Retford Oaks Academy student Sanaa Asim, achieved an A* in English, an A in German and grade Bs in history and media. Sanaa will now be taking up her place at the prestigious St Hilda's College at Oxford to study German and Arabic.