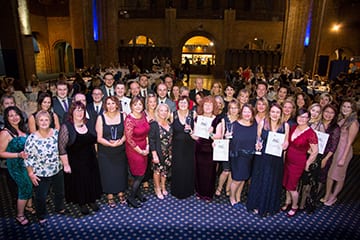 Academies from across Nottinghamshire and Lincolnshire joined in celebrating at the annual Diverse Academies Star Awards ceremony this month, recognising the outstanding achievements and dedication of staff from across primary and secondary education sectors.
Tuxford Primary Academy took the headline academy of the year award, continuing to go from strength to strength since its Ofsted Good judgement in 2014, with pupil numbers close to tripling in that time. 2017 culminated in the academy's highest ever SATs results, with staff described as 'dedicated, working hard to provide the best educational start possible' and 'offering children a wealth of opportunities through an unwavering pursuit of excellence'. There were also individual staff successes for the academy as Rachael Cottam collected the award for teacher of the year in a primary setting, following her national success as a top three finalist in the Moneywise Personal Finance Teacher of the Year award. Additionally, principal's PA Jane Guest was awarded staff member of the year in the academy support category.
The event, hosted by the Diverse Academies Learning Partnership, was held at Kelham Hall & Country Park on Thursday 19 October 2017, and this year was sponsored by Browne Jacobson LLB Education Advisors, Every, Expense Reduction Analysts, Mytec Group, Neo People Management and Reprotec. The judging panel shortlisted from hundreds of award nominations, across 14 categories, to showcase best practice in teaching, learning and academy operations at the event.
Debbie Clinton, acting CEO for the Diverse Academies, said: "The Star Awards are a wonderful opportunity to celebrate and recognise the dedication and achievements of all our staff. It is with great pride that we see so many impressive things happening across our multi-academy trust. The academy movement is often subject to much adverse political scrutiny, but we firmly believe in the benefits of close collaboration and partnership working. The Star Awards, for us, is just the tip of the iceberg in terms of what our staff can and are doing together, supported by strong and experienced leadership teams."
Others celebrating on the night included Jake Noble, who was crowned new teacher of the year following an exceptional start to his teaching career. Jake was described as having brought 'boundless energy' to the science department at Retford Oaks Academy. His sense of 'enthusiasm and humour' were highlighted as key facets of what makes him such an exceptional teacher, with a 'no-nonsense approach' appreciated and respected by his students and their parents alike.
In another coveted category, the teacher of the year in a secondary setting was awarded to Paul Matuszewskyj of Tuxford Academy. Paul was described as 'incredibly well respected by both students and colleagues across the academy'. His students have achieved core maths results which are amongst the best in the country and he was described as a 'renowned expert' in maths and a role model for others.
The event closed with the very special lifetime achievement award, which this year went to Graham Curry of Tuxford Academy. His commitment and enthusiasm to the profession has been evident in his academy for 37 years. Graham is known as one of the 'big characters' of the academy, with a particular and active commitment to sporting life for both the academy and wider Bassetlaw area. He is described as ensuring his academy is 'inestimably richer for his contribution' and has 'left his own unique indelible imprint'.
The final roll call of winners across all categories included:
Academy of the year – Tuxford Primary Academy
Partnership and collaboration – Joanna Thomas-Wright (Walton Girls' High School)
Staff member of the year (business directorate / academy support) – Jane Guest (Tuxford Primary Academy)
Staff member of the year (teaching and learning support) – Marie Slater (East Leake Academy)
New teacher of the year – Jake Noble (Retford Oaks Academy)
Teacher of the year (primary) – Rachael Cottam (Tuxford Primary Academy)
Teacher of the year (secondary) – Paul Matuszewskyj (Tuxford Academy)
Team of the year (academy support) – Trent Valley Teaching School Alliance
Team of the year (operations) – IT Team
Team of the year (teaching and learning support) – Walton Girls' High School Teaching Assistants
Leadership and management award (operations/academy support) – joint winners Sarah Green (operations) and Serena Sellick (Tuxford Academy)
Leadership and management award (education directorate) – Heather Widdup (Retford Oaks Academy)
Governance – National Church of England Academy Board of Governors
Lifetime achievement – Graham Curry (Tuxford Academy)