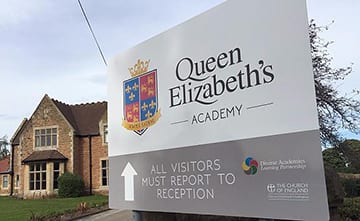 Queen Elizabeth's Academy in Mansfield, part of the Diverse Academies Learning Partnership, has confirmed that it will be offering places to those families affected by the closure of the Vision Studio School, with over thirty students able to start at the academy from September 2017.
Recent reports confirmed the closure of the Vision Studio School, with a large number of current year 10 students needing an alternative school to complete their qualifications. However, moves to find suitable high quality placements for these young people have happened quickly, with the regional schools commissioner approaching the Diverse Academies' leadership team at Queen Elizabeth's Academy to attempt to place the students.
Helena Brothwell, principal at Queen Elizabeth's said: "Once approached, we had to ensure that these students were able to continue their education without delay. We know that we can make a positive difference in their lives and we did not want these students to feel that 'the system' has failed them. We are putting a bespoke plan into action so that each of our new students will have the opportunity to familiarise themselves with our values and expectations quickly, in a supportive environment. This will be vital in enabling a smooth transition, as seamlessly as possible, and ensuring that each student is able to get on with the important task of learning from the start of the new academic year."
Queen Elizabeth's will offer a week-long intensive transition programme led by the academy leadership team to prepare these students for the coming year. Together with covering what it means to be a student at the academy, it will highlight the broader curriculum opportunities on offer compared to their previous experiences.
Helena Brothwell continues: "These students need a very positive year 11 as they head towards their GSCE examinations. Our academy offers a wide range of courses and personal development opportunities – we will encourage all to aspire to be the best they can be and to have the opportunity to experience success."
Debbie Clinton, Acting CEO of the Diverse Academies added: "We have a moral imperative to ensure these young people have continued access to high quality education. They will be joining an academy that offers a quality knowledge-based curriculum delivered by experts, with strong leadership and focused support for students. We have to ensure they are not left behind. With an exciting year of accelerated learning planned for year 11 students, this represents a great opportunity for them to develop and re-engage with education in a superb learning environment."
From September 2017, all academy students will be taught through a knowledge-based curriculum, delivered through direct-instruction teaching methods. This method, which is an echo of the grammar-style teaching taught on the academy site during its long history, is unique to Queen Elizabeth's in terms of secondary education in Mansfield and beyond.
Helena Brothwell added: "Our students will be taught in a very traditional manner in the coming academic year, as we look to fill in some gaps in learning . In learning this way, across the whole academy, our students will embed key knowledge, vital to ensuring success and progression onto employment or further education. It's another stage in our programme of academy development – we are extremely determined to deliver a high quality education and raise overall standards at Queen's Elizabeth's."
The academy will be opening it's doors to prospective new students and their families in September with two open events aimed at answering questions about the new curriculum, offering tours of the facilities and giving people the chance to meet with Queen Elizabeth's leadership team.