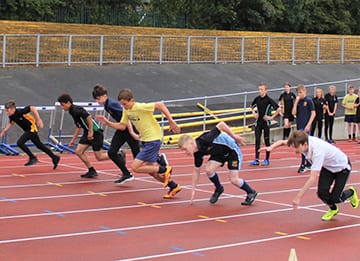 Tuesday 11th July 2017 saw the fifth annual DALP Games held at the Harvey Haddon Stadium in Nottingham. Each of the secondary academies within the Diverse Academies Learning Partnership assembled strong teams, with 450 students involved across the partnership, to compete at the sports centre in a variety of sporting disciplines including athletics, swimming and Futsal.
The morning of competition took place mainly on the athletics track with students from the seven academies competing in the soggy conditions, the rain never dampening either their spirits or the intensity of the competition. Points were awarded for each event, with students running, jumping and throwing to place their academy as highly as possible in each event, aiming to be crowned 'DALP Games Champions 2017'.
The competition continued into the afternoon with indoors sports such as Futsal taking place alongside the swimming gala, which featured 140 students. Following the conclusion of all events, the points were counted up with East Leake Academy the overall winners for the second year running, narrowly pipping Tuxford Academy to take the crown.
Members of the winning team from East Leake commented, "We're really excited to have won and have loved taking part. Our team had a brilliant connection and that bond is what secured us the victory. We have also really enjoyed meeting students from other academies and getting to know new people. Following this victory, we hope that our team can make it a hat-trick of wins next year!"
Debbie Clinton, CEO of Diverse Academies who was on hand to present the awards to our winning teams, said of the day, "I am honoured to be part of this collaborative sporting event featuring our extremely talented students and to present the trophies to our victors. All disciplines were contested in a highly sporting manner, and it is testament to our students that they have competed with a smile on their face, winning and losing with equal good grace.
The DALP Games brings together our full academy community as one. The entire day is co-ordinated by forty young leaders from our academies alongside staff from across the trust, who have done a fantastic job of organising the events, collecting score sheets and encouraging all competitors. I am immensely proud of all of our students, games organisers and staff support team."
The final results were as follows:
1st – East Leake Academy
2nd – Tuxford Academy
3rd – National Church of England Academy, Hucknall
4th – Walton Girls High School, Grantham
5th – The Holgate Academy, Hucknall
6th – Queen Elizabeth's Academy, Mansfield
7th – Retford Oaks Academy
Together with those competing in events, students from a four of the academies also attended to fundraise for Diverse Academies' nominated charity, Lincs and Notts Air Ambulance, by selling snacks and refreshments to competitors. East Leake's year 10 charity team said, "We've had a fantastic time being here today as part of our fundraising drive. We've really enjoyed making a difference for our chosen charity, watching the events and being part of the wider team."