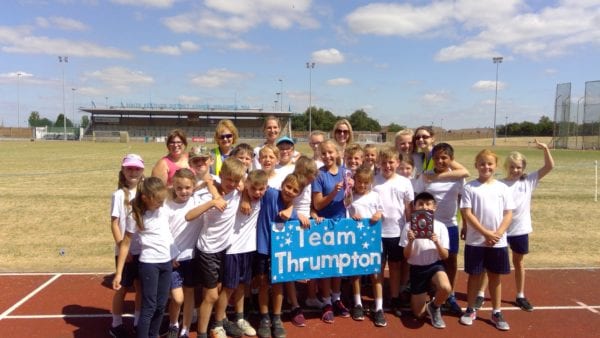 Students from across the Diverse Academies were off the starting blocks and racing for gold at the sixth annual inter-academy DALP Games, held on 10th July at the Grantham Meres Leisure Centre.
Over 400 students competed in the event, with secondary academies taking part in track and field, netball and futsal, and primaries battling it out in athletics, hockey and high 5 netball. The students all showed grit, determination and competitive spirit to win through their heats, but in one of the closest finals to date, it was East Leake Academy who emerged triumphant to win the secondary academy category for the third consecutive year, while in the primary category, Thrumpton won through for first place.
At secondary level, the National Church of England Academy were the runners up, with Walton taking third place. In the primary games, Bracken Lane took second place while Samuel Barlow came a close third. In addition to the competitors, 50 young sports leaders and ambassadors also helped out at the games in a range of event support roles.
Kirsty Rafferty, games leader, said of the day: "We're so proud of all the students who took part in the sporting events or assisted with the smooth running of the games – they were a real credit to their academies. The DALP Games get better and better each year and there's a real thirst to win. It's a wonderful chance for the students to compete, develop team working skills and meet fellow students from across our academies."
Final scores…
Secondary academies:
East Leake Academy
National Church of England Academy
Walton Girls' High School
Tuxford Academy
The Holgate Academy
Retford Oaks Academy
Queen Elizabeth's Academy
Primary academies:
Thrumpton Primary Academy
Bracken Lane Academy
Samuel Barlow Academy
Tuxford Primary Academy
Wainwright Academy
Redgate Primary Academy