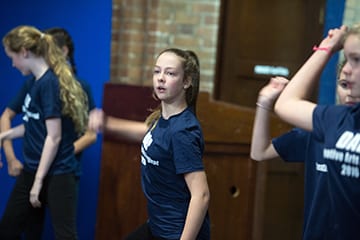 It was show time for students from all nine DALP Academies as they took to the stage on Tuesday, 13th December in a show stopping dance and musical spectacular.
This year the DALP Creative Arts Festival took place at the prestigious Kelham Hall in Kelham near Newark.
DALP students rehearsed hard in the weeks leading up to the event as performances were polished to perfection, which was no easy task considering that some students had never performed before.
The spectacular hall with its domed roof, was filled to capacity with an audience consisting of students, parents/carers, teachers and VIPs who were all wowed with a fabulous array of singing, dance and musical performances.
All academies performed individually and the roof was raised as they all sang together for the finale 'Aint No Mountain High Enough'.
Special guest Mrs Jan Richardson MBE, Deputy Lord Lieutenant for Nottinghamshire said "I've never spent such a lovely couple of hours and if Her Majesty The Queen had been here, I'm sure she would have wanted to join in.   I've had a thoroughly splendid time."
DALP Chief Executive Officer, Mr Chris Pickering was amongst those who attended and said of the performance, "Different venue, different people, but still as good as ever.    Performances were excellent, particularly considering that many students are not used to performing on stage."
Parents praised the students for their courage in getting up on stage and performing, some of whom had never done anything like this before, but parents have noticed that taking part in the event, has really lifted their confidence and self-esteem.
The students who performed at the event, will be rewarded for their efforts with a trip to the pantomime 'Jack and the Beanstalk' at Nottingham Theatre Royal in January.
Ticket monies raised at the event will be donated to Nottinghamshire and Lincolnshire Air Ambulance.