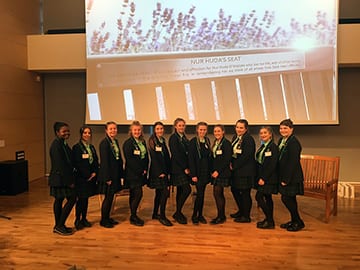 Students from across the Diverse Academies Learning Partnership have raised in excess of £3,000 for a London school affected by the Grenfell Tower fire of June 2016. Holland Park School, which has the tower block within its catchment area, was unanimously supported by students for the fundraising drive due to existing ties between the school and academies within the Trust.
A group of student ambassadors from Walton Girls' High School in Grantham had the honour of travelling to London to represent Diverse Academies and presented a cheque to students at Holland Park. The visit was emotional yet rewarding, as the visiting students spent time with their Holland Park peers, enjoyed a tour of the school, observed lessons and shared a lunch together.
Shilpa Manjunath, science teacher at Walton Girls High School, accompanied the students and said: "It was a real privilege for the students from Walton to be invited to Holland Park. On behalf of Diverse Academies, we were delighted to present a cheque for a substantial amount of money raised for victims of the Grenfell fire. The school and pupils were extremely hospitable and represented true courage and inspiration to us all with their impeccable and warm nature, at what are still very sad and distressing times for them.'
A series of events and fundraising activities were organised by students across the academies within the partnership including 'Green for Grenfell' themed non-uniform days, selling ribbons and badges to show support, and providing a variety of ways for students and staff to donate.
Diverse Academies' acting CEO, Debbie Clinton, said: "I am immensely proud of our students who took it upon themselves to raise money for their peers in London following such a harrowing event.  We encourage compassion, understanding and caring across our academies and the students demonstrated this in abundance by raising a substantial amount of money for others in their time of need."
The money raised has been directly donated to Holland Park to enable it to put the funds to good use, by deciding where they are best needed to support students and staff who were affected by the disaster.