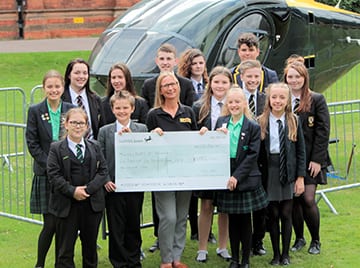 Students from across an East Midlands-based multi-academy trust – the Diverse Academies Learning Partnership – came together at Kelham Hall on Friday 21 July to present Lincs & Notts Air Ambulance with a cheque for over £1,500.
Students from all nine academies within the trust took part in a range of fundraising activities throughout the academic year, following the students' decision to support the Lincs & Notts Air Ambulance service – which relies solely on public donations.
Patrick Knight, executive assistant principal at the Diverse Academies, said: "Our students took the lead on coming up with ideas and initiatives on how to raise money. One particularly memorable event included 'welly-wanging' at Queen Elizabeth's Academy, Mansfield, where students and staff were tasked with throwing a wellington boot as far as they could!
"We are incredibly proud of our students' charitable work – but it's about much more than simply raising funds. Across the year our students are generous with their time and energy in a number of ways within their local communities – values we feel as a trust are important in enabling our young people to become confident and well-rounded members of society."
Karen Carter, community fundraiser at the Lincs & Notts Air Ambulance service added: "We are really grateful of the support these students have given us this year and thank them for choosing to support our charity. Some of the students also came to visit us and see our new helicopter at Tollerton to understand more about what we do.
"This year it will cost £2.5million to keep our Ambucopter in the skies and saving lives every day. We don't receive any direct government or national lottery funding so it's the public's generosity which ensures we are able to keep our vital, life-saving service in action. The Diverse Academies students have also helped us to raise awareness of what we do across Lincolnshire and Nottinghamshire, where on average we are dispatched to three of the most serious, life-threatening 999 calls each day."
During this academic year, Karen also delivered inspiring and eye-opening assemblies at Tuxford Academy and Queen Elizabeth's Academy, leaving a lasting impression and appreciation of the importance of the work carried out by this service and the huge costs that it involves.
Fundraising efforts took place across the region at: Retford Oaks Academy (Retford), Tuxford Academy and Tuxford Primary Academy (Tuxford), Walton Girls' High School (Grantham), East Leake Academy (East Leake), The Holgate Academy and National Church of England Academy (Hucknall), and Queen Elizabeth's Academy and Wainwright Primary Academy (Mansfield).