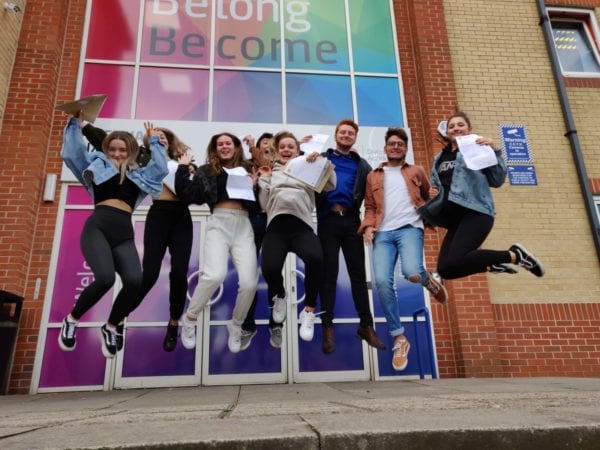 Students from across Diverse Academies celebrated A Level results today, which saw an impressive trust-wide overall pass rate of 98% – an increase of 11% on 2018's results – and of which all grades at the top levels of A*-B also rose to 41%.
Chris Pickering, Diverse Academies CEO, said: "I am delighted to share in the successes of our students, achievements for which they should all be rightly proud. This year's pass rate is a marked climb on our 2018 position, but is really only one indicator of student success. We strive to ensure all our students leave Diverse Academies with both a strong academic outcome and also the rounded life skills and experience necessary to succeed in their onward journeys – whether that be into higher education, an apprenticeship or employment.
"I'd also like to acknowledge the very hard work and dedication of my colleagues, who each year work tirelessly to support and inspire our students to achieve their goals. They have a relentless drive to ensure our students are at the heart of what we do and leave our academies well prepared and equipped for life. Their passion for the young people of our communities is unwavering, and so it's always a great pleasure to celebrate their successes with them.
"On behalf of the Trust, I'd like to wish all our students the very best in their next steps and invite them to return to their academies in the near future, inspiring others to be the best they can be."
Across the Diverse Academies, there have been many outstanding individual success stories, alongside each of our academies, where pass rates of between 97% and 100% were achieved, and the overall attainment has risen year on year. The vast majority of students have secured a place at university, with an increasing number of students choosing to progress onto apprenticeships.
At our Hucknall Sixth Form Centre, which hosts students from Queen Elizabeth's Academy, National Church of England Academy and The Holgate Academy, there have been a number of notable successes. The top performing student at the centre was George Newton, achieving a hugely impressive set of results with four A* grades and will be going to study Spanish and Portuguese at the University of Oxford. George said of his achievement: "I was surprised when I opened the envelope – I had to check they were my results! Hard work always pays off and the support from staff has been a major part in helping me achieve these grades. I'm really excited about going to Oxford. It's a dream come true!"
Other great individual successes included three talented individuals achieving A*, A*, A, A – Gregory Miller who will now go on to study English at the University of Cambridge, Louis Tomlinson who is studying joint mathematics and physics at Warwick University, and Farrell Brice who will be going to the University of Sheffield to study mathematics, accounting and finance. Charlotte Gould and Alex Brown both achieved an impressive A*, A, A, B, with Jade Beeston claiming another set of top results with A, A, A, B. The most improved student was Madeline Bramley with A*, B and two Cs, going up three grades across four subjects during her final year.
At East Leake Academy, one of this year's top performers, Finely Yates, achieved three A* grades and will be heading to Oxford University to study biochemistry. He said: "I am delighted with my results and they are better than I expected! I'm now looking forward to taking up my place at Oxford and settling into university life."
Another top performer, Tom Gibson, also achieved three A* grades and an A grade in his Extended Project Qualification (EPQ). With a place secured at the University of Cambridge to study history, Tom said: "I am overwhelmed with my results and the hard work really paid off. I am so grateful to East Leake Academy staff for all the support they have given me over the past seven years."
Sarah Pearce came away with three A grades. She will be studying primary education at Nottingham Trent University and said she was "delighted with her results". The hard work also paid off for Rosie Hill who also achieved three A grades. With a keen interest in the sciences, she will now go on to study biomedical science at York.
At Tuxford Academy, 75% of students have been accepted to their first choice of university, further education or employment. A quarter of students have chosen to attend Russell Group universities. Matthew Dinsdale gained four A* grades. He will now study dentistry at the University of Sheffield. Matthew said: "I'm feeling a bit dazed, it's amazing that all my hard work has paid off."
Caitlin Cook was awarded an A* and two A grades. She will be attending the University of Leeds to study history and sociology. Also celebrating is Megan Davies who achieved three A grades and will be attending the University of Edinburgh to study art history and fine art. Megan said: "I am really proud of myself and very thankful for all the help and support I received from the academy."
Another high-achiever is George Moncaster, who was awarded three A grades and will be attending Hull University to study American studies. George said: "I am humbled and proud that my hard work has paid off."
At Walton Academy, one of this year's top performers was Alex Williams who achieved three A grades. She will now go on to study biology at the University of Birmingham. She said: "I am delighted with my results and very excited about next year"
Elyssia Chettle celebrated achieving an A grade and two B grades, which was an exceptional achievement as she only took the course for one academic year. Elyssia will now be heading to the University of Birmingham to study a masters course in chemistry with a year in industry. On collecting such great results, she said: "I was not expecting these results, I am over the moon with what I have achieved."
After achieving results of a B grade and a Distinction, Klaudia Bakula will be off to Nottingham Trent University to pursue a passion for design by studying a degree in graphic design. They commented: "I am pleased with my results and I am looking forward to starting graphic design."
And finally, almost a fifth of students at Retford Oaks Academy achieved the top A*-B grades and saw a number of inspirational student success stories, including Tyla Sagar who achieved an A*, two B grades and a Distinction.
Amy Williams achieved an A, two B grades and a C. Amy said: "I am really pleased with my results. I have already been accepted for an apprenticeship in business administration at Rampton Hospital and am very excited about it."
Olivia Hurt achieved A, B and C grades, and said of her success: "I am so happy to see that my hard work has paid off. I initially wanted to study sociology at university but didn't think I would do quite as well as I have, so I'm now going to explore my options through clearing."