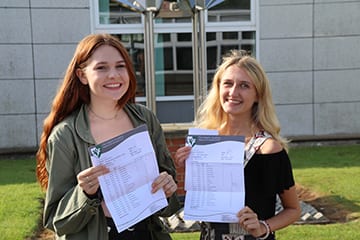 Students from across the Diverse Academies Learning Partnership, a multi-academy trust based within the East Midlands, today celebrated GCSE results day.
Across the board there were a number of successes, including Walton Girls' High School which saw the pass rate (5+ A*-C) rise by over 13% to 72% and over 50% of its students achieve the top grades. Tuxford Academy, again saw another year of excellent results, with a pass rate of 70% and 23% of all grades at A*-A (or equivalent) – an increase of 11% from 2016.
Amongst the many individual student success stories of the day was Lizzie Widdowson, of The Holgate Academy, whose exceptional achievements included grade 9s in all three of the new maths, English literature and English language exams – one of only a reported 2,000 students in the country to achieve the 'triple'. Lizzie said modestly of her success: "I am ecstatic about my results, I have really enjoyed my time at Holgate."
Young people collecting their results at academies and schools in England today were the first to sit new GCSEs, which are being rolled out over a number of years. Debbie Clinton, acting CEO, said: "Today marked the first year of the new GCSE regime, set with a more demanding curriculum and reformed exams. So it's with great pride that we've seen our students collectively achieve 65 of the highest possible new grade 9s in English and maths, subjects which are core to every child's education.
"There has been much media coverage about the government's drive to raise standards, and whether we agree or not that this is the right way to challenge our young people, here at the Diverse Academies, we want every student to achieve the best possible outcomes – enabling them to go on to further study and employment. Today is really all about celebrating their hard work and achievements, and that of our dedicated staff who guide, challenge and support them all the way."
Further success stories included at National Church of England Academy where George Newton was the highest achieving male with five A*s, a grade 9, a grade 8 and three As. Ryan Pratt-Hall who achieved two grade 9s amongst his A* and A grades. Charlotte Gould, the highest achieving female, achieved a grade 9, three A*s, three As and a distinction star. Ryan Pratt-Hall said: "I am so pleased that my hard work has resulted in top grades, and I can now confidently move on to study my A Levels. I will be going on to Hucknall Sixth Form Centre, and can't wait to get started in September."
At East Leake Academy, which this year saw 18 of the top grade 9s achieved by its students, had outstanding individual attainments from Thomas Gibson, who gained three grade 9s, five A*s and two As. Jacob Langley, who achieved one grade 9, seven A*s and two As. Rosie Hill with one grade 9, seven A*s, one A and one B. And Adelaide Marshall, who gained one grade 9, five A*s and five As. Thomas Gibson said: "I am completely speechless, I can't believe it and I am just so happy!"
At Queen Elizabeth's Academy, Anzelika Lugononoka achieved grade 7s in maths and English, an A* in art, an A in photography and French, a B in physics and Cs in biology and chemistry.
Emily Ball, of Retford Oaks Academy, achieved six A*s, three grade 8s, an A and B, making her the top scoring attainment result in the academy. And Hannah Warner, who achieved an A*, two As, three grade 7s, a B and a distinction. Hannah also studied for an A Level in art and was awarded a grade B. She said: "I feel overwhelmed, surprised and very happy with my results – I've done so well!". Both Hannah and Emily are now looking forward to moving to Southampton and starting EDF Energy's engineering maintenance apprenticeship scheme in September.
At Tuxford Academy Caitlin Cook achieved two grade 9s, three A*s, three As, a B, a grade 6 and a merit. She said: "I have worked very hard this year but I didn't expect I'd have done this well! I'm really looking forward to coming back to Tuxford to study for my A Levels in September". And Lucy Walsh, another high-achiever, was awarded two grade 9s, two A*s, five As, a grade 7 and two Bs. She said: "I'm so proud of myself. I thought I might do quite well, I've certainly worked hard for my results, but my grade 9 in English language has really surprised me!"
Finally, from Walton Girls' High School, Outstanding individual achievements included Lili Hajanal who achieved one grade 9, six A*s and three As, Elisia Chettle who gained five A*s and five As, Lucy Valentine who achieved one A*, three As and four Bs, and Renata Hajanal who achieved four A*s, three As and three Cs.