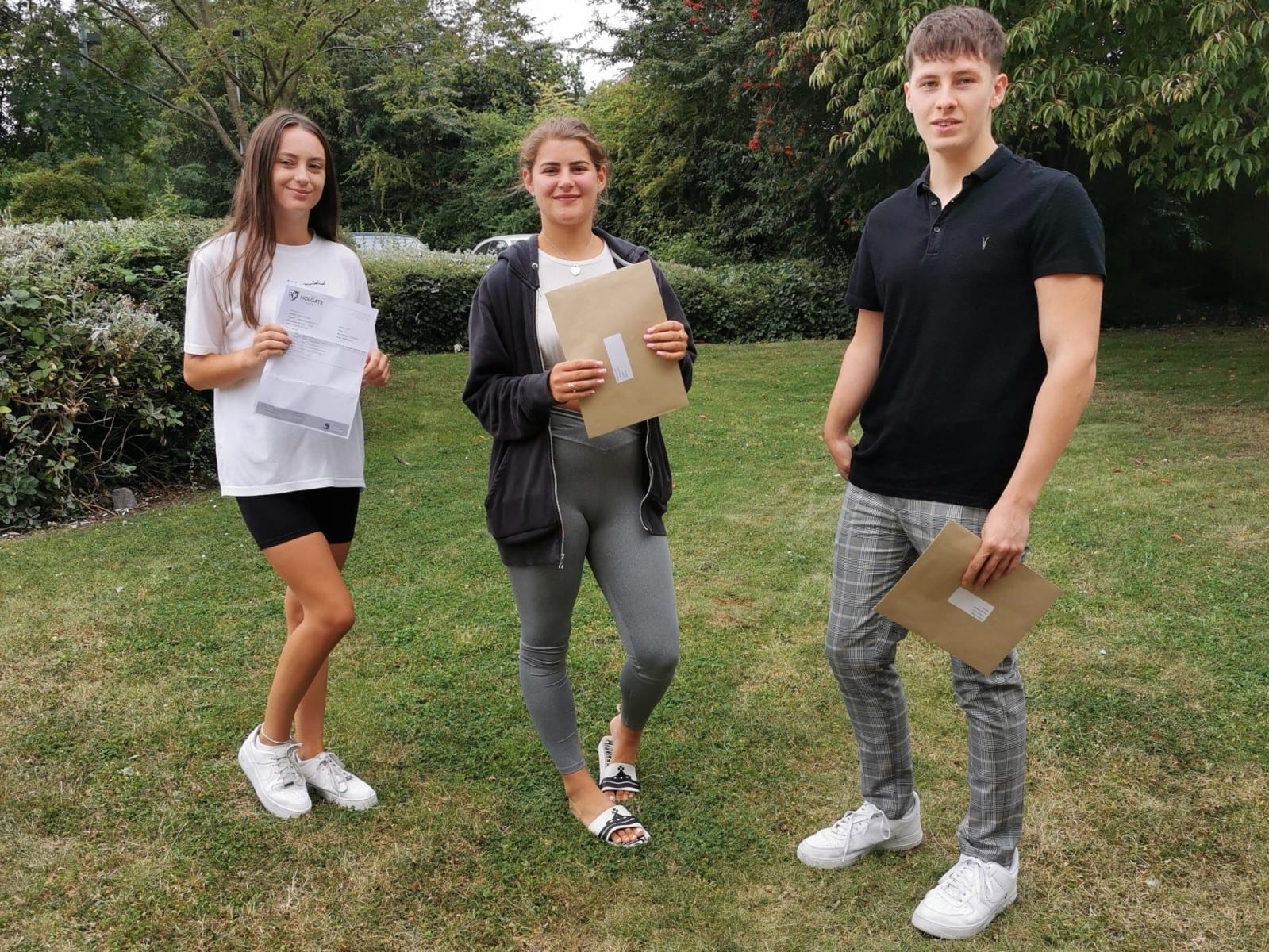 Students across Diverse Academies are celebrating after collecting their A Level results today, with a trust-wide overall pass rate of over 99% – which, despite the very different grading landscape, represents an increase on last year's results.
A fifth of all grades awarded were in the highest range possible (A*-A) and almost half were between A* and B. This year saw more students taking vocational and BTEC courses in applied subjects and 44% of the grades awarded were in the top banding of Distinction*/Distinction.
David Cotton, Diverse Academies CEO, said: "Collecting your A Level results is an exciting milestone, but can be a nerve-wracking occasion – this year has brought an extra layer of trepidation that none of us could have predicted 12 months ago. I am incredibly proud of our students across the entire Trust, who have shown great resilience in the lead up to today, and I would personally like to acknowledge their continued positivity.
"Our students and staff have worked incredibly hard, and whilst the debate over the process for awarding grades this year continues, we must also recognise that academic attainment is just one measure of success. Our students are also leaving us with the rounded life skills and experience that they need to succeed in their onward journeys – whether that be into higher education, an apprenticeship or employment. I would like to wish all of our students the very best in what I know will be a bright future."
Across Diverse Academies there have been many outstanding individual success stories, and overall attainment has risen year on year. Students have been successful in securing their places at university and an increasing number of others have chosen to progress onto apprenticeships.
Maintaining its 100% pass rate, students at East Leake Academy celebrated another year of fantastic results with 65% of awarded grades at A*-B – an increase on last year's performance. These superb results mean many will now take up their places at both Russell Group and top universities, as well as going on to undertake higher level apprenticeships.
One of this year's top performers, Ben Gill, achieved two A* grades in economics and maths with As in further maths and physics. He will be taking up his place at University College London to study economics. He said: "I'm thrilled with these results and looking forward to the next chapter of my education."
Another top performer, Millie Sellers, achieved two A* grades in film studies and in her Extended Project Qualification, with A grades in English literature and history. With a place secured at the University of Sheffield to study history, an emotional Millie said: "I honestly can't believe the results, I'm really excited about going on to study history at university."
At The Holgate Academy, the hard work and dedication of students paid off with the academy seeing strong improvements in the number of top-level grades (A*-B) awarded and an incredible 100% pass rate overall. There have been further positive results across the board with academic attainment rising across both A Level and applied (vocational and BTEC) subjects – enabling Holgate students to progress onto a variety of university courses and apprenticeships, as well as into employment.
Top performing students include Jacob Alvey who achieved impressive results scoring two A* and two A grades. He will now go on to study maths at the University of Birmingham.
Students from Mansfield's Queen Elizabeth's Academy who study at the Hucknall Sixth Form College, have achieved an impressive 64% of all grades in applied subjects (vocational and BTEC courses) graded at distinction* or distinction, the top grades possible.
Further to this, 75% of all students received the great news that they had been accepted on their first-choice course at university. This included Harry Waring who achieved superb results with a Distinction* in business, a Distinction in law, together with two Bs in his A Levels (finance and the Extended Project Qualification). His success means that he is going on to study law at Nottingham Trent University.
A Level students at Tuxford Academy also celebrated another year of excellent results with, as of today, 87% gaining university places – 70% of which at their first choice destination. Top achievers included Jake Trotter from Gamston, who has been awarded As in maths, further maths and the Extended Project Qualification and a B in physics. Jake will be taking up his place at Newcastle University to study physics. He said: "These results have set me on the right path for the rest of my life."
Erin Jackson from Rampton, also achieved A grades in chemistry, maths and biology. Erin will be heading to the University of Leeds to study psychology. She said: "I have worked really hard during my A Levels and I'm really happy with my results. I can't wait to start at Leeds University."
At Walton Academy, one of this year's top performers was principal student, Florence Hill, who achieved A* in art and design (photography), A in religious studies, and a B in English literature. She will be heading to the University of Sheffield to study journalism.
On receiving her results, Florence said: "The Walton post 16 team have been nothing but supportive and encouraging throughout my time at Walton and during these unprecedented times. I am proud to have been a student at Walton and am looking forward to the next chapter in my life."
Elena Boby celebrated achieving A in biology, A in chemistry and a B in maths, an exceptional achievement, and will now be heading to University College London (UCL) to study medicine. On collecting such great results, she said: "I am thrilled to be going to UCL and feel like the hard work has finally paid off."
And finally, at Retford Oaks Academy, over half the grades awarded were the top A*-B grades with a pass rate of over 99%. There were also many inspirational student success stories with year's top performer, Rhiannon Emery, achieving a hugely impressive set of results with A*s in Spanish and business and an A in maths. Rhiannon will be taking up her place at Bishop Grosseteste University to study maths. She said: "I am so pleased – wow!"
Another top achiever was Olivia Bateman who achieved an A* in business, an A in biology and an A in chemistry. Olivia will be taking up her place at the University of Lincoln to study law. As she left Retford Oaks she said: "Thank you for everything!"