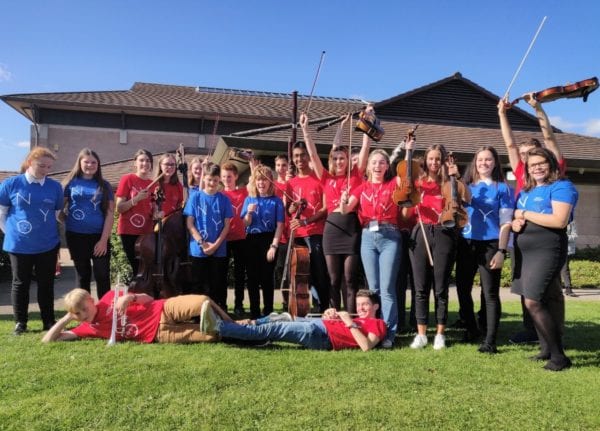 On Tuesday this week, students and staff at Queen Elizabeth's Academy in Mansfield were joined by the amazing National Youth Orchestra in a scheme designed to introduce classical music to school age children.
The visit from the 70-piece orchestra was part of the NYO Play the School scheme, aimed at continuing the mission to give inspiring musical experiences to teenagers across the UK. The National Youth Orchestra regularly takes orchestral music out of the concert hall to secondary schools and during 2019 are touring 10 secondary schools across the country, with Queen Elizabeth's one of the lucky host academies.
The day included engaging side-by-side workshops, an introduction to the sights and sounds of each instrument in the orchestra curated by NYO musicians, musical flashmobs going into academy classrooms, and a powerful large-scale symphonic performance from Prokofiev's famous Romeo and Juliet.
The students were amazed at the musicians' incredible talents during the workshops, and the amazing sound delivered during the performance. Year 11 student Ellie said: "The music was incredibly powerful and moving. I haven't ever heard anything like it before – their performance was the best music I have ever experienced and the hairs are still standing up on my neck!"
Academy principal Kimberley Willmot added: "We would like to thank the National Youth Orchestra for a brilliant interactive and inspirational day. To hear such talented young musicians play in our academy was a joy and a privilege, and we hope that it will inspire some of our students to want to pick up an instrument and learn to play."
As part of the mission to inspire younger children to get into music, pupils from Wainwright Primary Academy and Samuel Barlow Primary Academy were invited along to the event to experience the instrument workshops. Some of these pupils were also given the amazing experience of helping to conduct this huge orchestra – a once-in-a-lifetime experience and a superb learning opportunity.
The event came on the back of the academy recently achieving the Artsmark Silver award for their dedication to providing learning experiences and opportunities in the arts for all students. A superb day for everyone connected to Queen Elizabeth's.