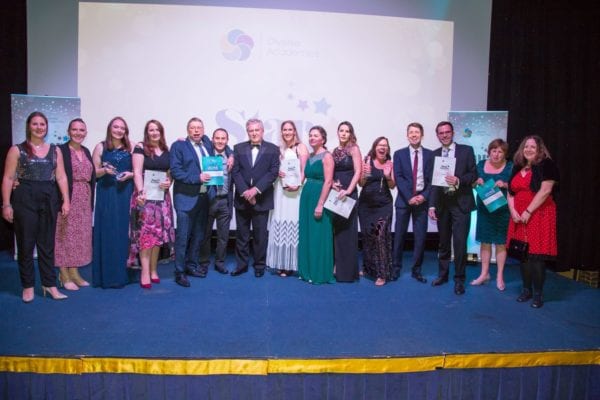 Our annual Star Awards, now into its fourth year, was once again held at Kelham Hall & Country Park this October – providing a fabulous backdrop for celebrations in recognition of the dedication and achievements of colleagues from across Diverse Academies.
Guests on the evening heard about just some of the exceptional successes and developments that have taken place across the Trust over the last academic year – as 150 members of staff from 14 academies gathered to watch their colleagues, friends and peers being recognised for excellence in teaching, support, innovation, creativity and collaboration across a number of awards categories.
The evening also included the addition of two very special sets of awards – Lifetime Achievement and Long Service – which are given to those who have reached the milestones of over 30 and 40 years of service. There were 22 recipients of these awards who had an astonishing combined service of 744 years!
The Star Awards event is made possible with the very kind and generous support of a number of sponsors. Our thanks go to:
A huge well done to all of our winners and finalists, and to every staff member for the work they do each day to support our students in all of our academies.
Our 2019 winners:
COLLEAGUE OF THE YEAR (TEACHER)
Michelle Cunningham (Tuxford Academy)
COLLEAGUE OF THE YEAR (NEW TEACHER)
Sarah Marr (Queen Elizabeth's Academy)
COLLEAGUE OF THE YEAR (OPERATIONS)
Theresa Skillen (Redgate Primary Academy and Yeoman Park Academy)
COLLEAGUE OF THE YEAR (TEACHING AND LEARNING SUPPORT)
Zoe Hunt (Retford Oaks Academy)
PARTNERSHIP AND ENGAGEMENT
Kim Dolby (Walton Academy)
SOCIAL MOBILITY AND INCLUSION
Megan Webster (Redgate Primary Academy)
TEAM OF THE YEAR
Hucknall Sixth Form Centre
LEADERSHIP AND MANAGEMENT
Jessica Leonard (Walton Academy)
GOVERNANCE
Geoff Gadie (Retford Oaks Academy)