As the new, tougher GCSE grading structure was this year extended to include more academic subjects – such as history, modern languages and geography, in addition to the core subjects of maths, English and the sciences – all eyes were on schools across the country to see how they would fare under the new regime.
Many of our students within the Diverse Academies were hoping to also achieve the coveted highest grade 9 (the equivalent of A**), which is reported to be harder to achieve than the old A* – and with successes recorded across the board there was good reason to celebrate.
Chris Pickering, CEO said: "It's easy to focus solely on the attainment of our students on a day like this, and indeed we are thoroughly proud of what they have accomplished during their time with us. But we should also remember that our students achieve much more than a set of grades. They leave us having experienced a wide and varied curriculum, including the arts and sports, alongside having had access to a wealth of enrichment beyond the classroom – so vitally important in preparing our young people for the world of work and life beyond school.
"My colleagues in all of our academies have responded with resilience and their usual drive to the significant changes the sector has faced, and I'd like to thank them for their commitment and the passion they show in all that they do. Our results are a testament to their hard work, as well as that of the students themselves.
"We hope that many of our students will return to us this September as members of our post 16 community, and take the next steps into further education on a firm footing."
Amongst the many individual student success stories of the day were students from East Leake Academy, where an incredible 47 of the new grade 9s were achieved – predominantly in maths, biology, chemistry, physics, combined science but also in French, German and geography. Some of the outstanding individual results included Pippa Howes who was the academy's top performing student with five grade 9s, three grade 8s and A* in media studies. Pippa said: "I'm really shocked but delighted with my results as I wasn't sure what to expect. I worked really hard for my GCSEs but you never know what you will come out with. I'm now staying in the sixth form at East Leake Academy to do biology, chemistry and English and am potentially interested in studying medicine in the future."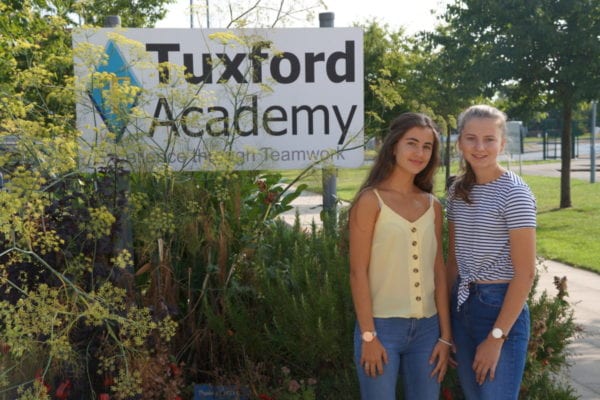 Further success stories included Tuxford Academy, where 85% of students achieved a standard pass or above in English and 72% in maths. Tuxford's Erin Jackson achieved a fantastic set of results including four grade 9s, three A*s, one A and a grade 8. She said: "I'm so happy with my results, I'm now thinking of studying maths, chemistry and biology at A Level." Another high achiever was Beth Sharpe, who gained two grade 9s, five grade 8s, one grade A and two grade 7s. She plans to stay on at the academy to study maths, chemistry and physics.
In Queen Elizabeth's Academy, students were joined by staff to celebrate a pass rate improvement of 10% in English and maths – reflecting the upward trend in the performance of this academy, which only joined the Diverse Academies in 2016. Queen Elizabeth's student Julia Suchanecka achieved a grade 7, three grade 6s, three grade 5s and two Distinction*. She will be going on to study a sports qualification at Vision West Nottinghamshire College. Julia said of her achievements: "I feel really happy that all my hard work has paid off."
At Walton Girls' High School – which once again saw high pass rates including 85% achieving a standard pass or above in English and 73% in maths – recorded overall attainment increases in every subject, continuing the upward trend of the results of the academy over the last three years. Outstanding individual achievements included Elena Boby who secured two 9 grades, five 8 grades and two 7 grades, and Milena Poraj, who also did amazingly well gaining one 9 grade, three 8 grades and four 7 grades.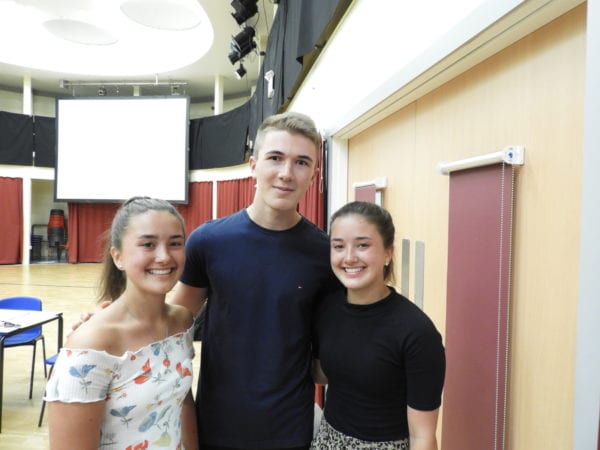 Retford Oaks Academy's triplets Georgia, Amy and James White achieved a set of outstanding results, including three grade 9s and five grade 8s for Georgia, six grade 9s for Amy and two grade 8s for James, who said: "I am thrilled at my results and my sisters' results. We have all worked extremely hard and are all really looking forward to our A Levels. I am going to be studying economics." Joe Garrett, who achieved grade 9s in chemistry, physics and RE said: "I am so happy with these results, and I'd like to thank Mr Olley, our Head of Science, for supporting me. I'm now one step closer to going to medical school, where I want to study psychiatry." And Rhiannon Emery was another high achiever, gaining six grade 9s. She said: "I am staying on for sixth form and have the ultimate aim of becoming a maths teacher. My own maths teacher, Mr Furness, has been an inspiration to me."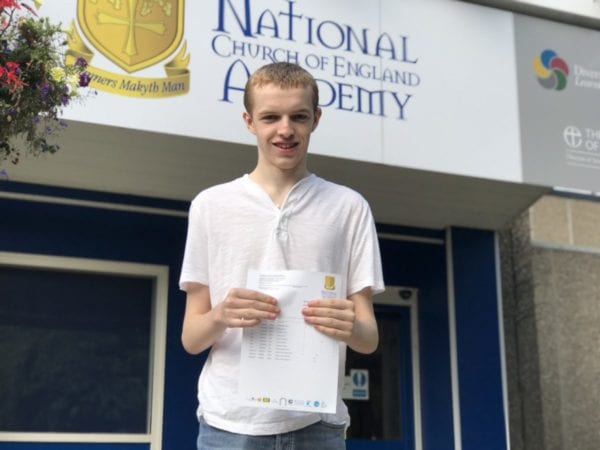 There were further great individual success stories at the National Church of England Academy, where 13% of students gained the top grades 9-7, 33 of which were the highest grade 9s. Amongst the notable individual successes were Ben Millward, who achieved an impressive seven grade 9s, one 7 and an A. Ben said of his achievement: "It feels pretty good to have achieved these results – it's hard to sum up all of my emotions, but a mixture of relief and excitement. I am looking forward now to going to Hucknall Sixth Form Centre to carry on my studies and am aiming to go to university in the future." Other successes also included Henry Parker, who gained five grade 9s and four grade 8s, and Fiona Gordon, who achieved three grade 9s, four grades 8s, an A* and a grade 7.
Students weren't disappointed at The Holgate Academy either, with some great individual successes. Amy Lovett came away with three 9s, two 8s, three 7s, one 6 and a merit and said she was "ecstatic" with her results. Jacob Alvey also attained superb GCSE's with three 9s, four 8s, a 6, Distinction and Distinction*. Grace Allsop received four grade 9s, three grade 8s and a 6. She said: "It's such a relief to get these results today. I just wasn't sure what to expect but am so delighted that all my hard work and revision has paid off. I hope this will set me up for the future."