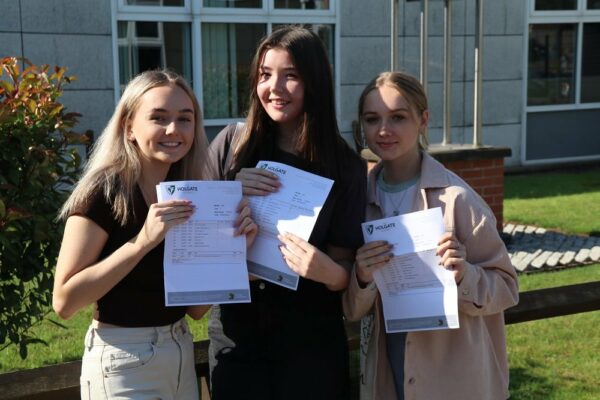 Staff across the Trust today welcomed back year 11 students to share in celebrating their GCSE results success, following a very challenging 18 months.
David Cotton, Diverse Academies CEO, said: "Today is all about celebrating the achievements of our year 11s and we could not be prouder of all they have accomplished. GCSE results day is a significant milestone for all young people and no more so than this year, following what has been another very challenging time for students and staff alike.
"Our students have persevered and put their resilience to the test, and their hard work has certainly paid off. Our academy teams have watched these students grow into confident young people, ready to progress and take on the challenge of post 16 studies, apprenticeships and training, equipped with those all-important life skills necessary for success. I would like to wish all of our students the very best of luck for the future and hope to see many of them return to our post 16 centres in September.
"My thanks must also go to my colleagues across the Trust for all that they have done for our students over the years. Our mission is to nurture curiosity, develop wellbeing and empower children and young people to go beyond their aspirations – and today is a wonderful testament to this."
Student success stories
Across Diverse Academies there have been many outstanding individual success stories – here we share a few from across the Trust.
Queen Elizabeth's Academy
One of this year's top performers, Maksymillian Rogowski, received seven grade 9s, two grade sevens and a 6 and is going on to study A Levels in maths, chemistry, physics and further maths. On receiving his results, Maksymillian said: "I am really pleased with my results, and I'm looking forward to my A Levels."
Another student who was thrilled with today's results was Noemi-Tabita Bajko who, despite moving to the UK from Romania and joining the academy mid-way through year 10, a critical time for any GCSE student, achieved all grades 4-9. She said "I am particularly proud of my grade 8 in art and will now be going to college to study it at a higher level."
Also joining the academy during year 10 was Julia Vladimirova, who moved to the UK from Lithuania. Despite joining midway through an important school year, Julia secured five grade 9s, four grade 8s and a grade 7. Julia said: "I am so happy with my results and will be studying my A Levels at Hucknall Sixth Form Centre."
Nadia Cabello Luna, who joined the academy at the end of year 9 from Seville in Spain, also worked hard this year, with impressive results. Nadia achieved a range of grades from 4-9 but, as her first language is Spanish, was especially proud of two grade 6s in English. She said: "I am so please and am looking forward to going on to Hucknall Sixth Form Centre to study my A Levels."
The Holgate Academy
Top performers this year included Evie Allsop who gain four 9s, one 8, three 7s and one 6 grade. Evie will be joining other Holgate students continuing their studies at the Hucknall Sixth Form Centre (HSFC) to study history, criminology, English language and psychology. She said: "It has been an anxious few weeks, but I am so pleased with my results."
Other notable successes included Holly-May Johnson who gained four 9s, two 8s, one 7 and one 5 grade. On receiving her results, Holly-May said: "I'm going to Bilborough College to study English language, history and business. I'm so happy all my hard work paid off and I can't wait to start Bilborough College in September!"
Hard work also paid off for Noah George, who was thrilled to gain one 9, four 8s, one 7, one 6, two 5s and a Distinction*. Noah will be going on to study physics, maths, sports and engineering and said: "Wow, I am so pleased, I am really looking forward to starting the Hucknall Sixth Form Centre."
Luke Sanders is also celebrating after receiving a Distinction*, three 9s, five 8s and one 7 grade. Luke will studying physics, maths, biology and psychology and said: "I am so pleased – I am looking forward to returning to the Hucknall Sixth Form Centre in September."
Luke will be joined by Imogen Chambers at HSFC in September, after she was pleased to have gained four 8s, two 7s, one 6 and one 5 grade. Imogen will go on to study criminology, psychology, biology and chemistry at post 16 and said of her results: "I am so pleased, I am really looking forward to starting my studies in September at the Hucknall Sixth Form Centre."
Also celebrating this morning was Finley Straw who received four 8s, three 7s and two 6s and will be going to college to study politics, philosophy and geography. On collecting her results, Finley said: "Thank you so much, I am so pleased! I cannot wait to start at college in September."
Another happy student receiving her results was Chloie Bonser, who gained one 9, three 8s, five 7s and a Distinction. Chloie will be joining students at HSFC to study chemistry, biology, maths and further maths. She said: "Thank you for all the encouragement throughout my time at Holgate, I couldn't of done it without everyone's support."
And finally, Jude Murray gained one 9, one 8, four 7s, two 6s and one 5 grade and is now looking forward to studying physics, maths, biology and chemistry at HSFC. He summed up the day: "The hard work really did pay off, thank you so much."
East Leake Academy
Among those with impressive results at East Leake Academy was Alex Arnold with grade 9s in all subjects. He will start post 16 studies at the East Leake Academy's sixth form next month.
Another student who was delighted with her results was Abigail Barnett. She received six grade 9s, with high grades in all of her other subjects. She is excited to join East Leake Academy's sixth form in September. Abigail said she was "delighted" with her results.
Maddie Charman also received outstanding individual results, with strong passes and higher grades in all of her subjects. She is delighted with her results and for making outstanding progress during her time at East Leake Academy.
It was a fantastic day for Nathan Pearce who achieved high grades of 6+ in all subjects and will be joining East Leake Academy's sixth form in September. He said: "I'm really looking forward to starting my A Levels at East Leake Academy."
Walton Academy
One student who was delighted with today's results was Mariella Ind. She achieved six grade 9s, two grade 8s, a distinction* and a grade 6. Mariella will now continue sixth form studies at Walton Post 16. On receiving her results, Mariella said: "I am really happy with my results, I would like to thank all my teachers for their support."
Hard work also paid off for Chloe Tuck. She gained top results of five grade 9s, four grade 8s and a distinction*. She said: "Thank you to all the teachers for their support, I am delighted with my grades."
Zofia Niemiec also came away with impressive results. She achieved two grade 9s, eight grade 8s and a grade 6. She will join Walton Post 16 Centre in the autumn to continue her studies. Zofia said: "I am really happy with my grades the hard work has paid off."
Scarlett Smith was also celebrating fantastic results. She was awarded six grade 9s, three grade 8s and a grade 7 and said: "I am so pleased with my grades, I am really happy!"
Tuxford Academy
Notable successes included Hannah Noble, from Retford, who gained seven grade 9s, one grade 8 and a Level 2 Distinction*. Hannah will continue on to study A Levels in maths, biology and chemistry at Tuxford Academy. On receiving her results, Hannah said: "I am very pleased with my results, all my hard work has paid off. I am really looking forward to returning for post 16."
Emma Biggs, from Retford, was thrilled to receive an impressive six grade 9s and 2 grade 8s. She will be returning to Tuxford Academy to study A Levels in biology, chemistry and maths and said: "I am so excited to see where these results will take me in the future."
Will Allan, from Averham, is also celebrating his success after an impressive set of results. Will gained five grade 9s, one grade 8 and two grade 7s. Will is planning on returning to the academy to study chemistry, biology, geography and maths and said: "I am so proud of my results, my hard work has really paid off."
Hard work paid off too for Ellie Cawston, from Walesby, who managed to secure eight grade 9s, one grade 8 and an A*. Ellie is considering a return to Tuxford to study A Levels in geography, business, psychology and core maths. Commenting on her results, Ellie said: "Really pleased with my results and that my hard work has paid off. I am excited to start my A Levels now!"
Isaac Bee, from Little Carlton, was delighted with his results. Isaac gained four grade 9s, three grade 8s and a 7. He is planning on returning to continue his studies at Tuxford Academy Post 16 Centre and said: "I opened the envelope and just saw all the 9s, they were better than I expected. I am really pleased, as I was quite nervous, but I'm ok now!"
Retford Oaks Academy
Top performers this year included Holly Smith who achieved three grade 9s, four grade 8s, one grade 7, and two Distinction*s. On receiving her well-deserved results, Holly said: "I am so pleased – thank you for all of the support."
Other notable successes included Dalia Wafai who gained three grade 9s, 2 grade 8s, 4 grade 7s and a grade 5. Supporting Dalia as she collected her results was her dad, who said: "I'd like to say thank you to the academy for all the work you have done with her – this is amazing."
Hard work also paid off for Molly Cappleman-Jackson and Ryan Falkner, who both received impressive sets of results. Molly gained five grade 9s, 3 grade 7s and a grade 6, while Ryan was awarded a grade 9, three grade 8s, two grade 7s, two grade 6s and a grade 4. Ryan said: "I'm really pleased with my results; my hard work has paid off."