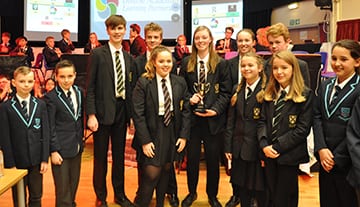 This year, our annual inter-academy quiz was held at Retford Oaks Academy on Wednesday 15 March 2017. It was an exciting opportunity for all nine of our academies to come together in the spirit of competition.
Students from all our secondary academies – The Holgate Academy, the National Church of England Academy, Tuxford Academy, East Leake Academy, Retford Oaks Academy, Walton Girls' High School and Queen Elizabeth's Academy – took on the challenge of competing against each other in a test of knowledge in true 'University Challenge' style. They were also joined by our two primaries – Tuxford Primary Academy and Wainwright Primary Academy – offering some of our younger members of the Diverse Academies the chance to meet older students and join in the fun.
This year, with the addition of three new academies since last year, the quiz was run in a slightly different way. Instead of head-to-head rounds, each round consisted of three competing teams taking on starter questions worth ten points. The successful team who answered the starter question correctly had a chance to go for bonus questions worth five points. This went on for seven rounds, with bonus quick-fire rounds between each main round. Each secondary academy team was joined by two students from each of the primary academies, who had their own specific key stage 2 questions during each of the quick fire rounds.
With all sorts of rules concerning not having the same students on the team for more than two consecutive rounds, and losing five points for wrong answers in the quick-fire rounds, the teams from all the academies set off on an exciting quiz journey. Students had to answer questions on a range of diverse subjects such as maths, science, geography, classical music and literature – many of which were taken from university-standard questions.
A huge congratulations to East Leake Academy for taking the coveted first place prize and becoming the Diverse Academies quiz champions 2017. And a further well done to all of the students who took part – you are a credit to your academies and have made us all very proud.
The final scores:
1st East Leake Academy – 130 points
2nd The Holgate Academy and Retford Oaks Academy – 90 points
4th National Church of England Academy – 80 points
5th Walton Girls' High School – 65 points
6th Tuxford Academy – 60 points
7th Queen Elizabeth's Academy – 30 points