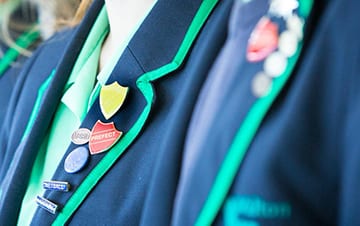 Walton Girls' High School has begun a period of consultation with parents and all stakeholders to provide co-education at the academy. Walton already has a mixed Sixth Form and this could see applications for boys being accepted in Year 7 from September 2018.
Walton, which has a proud record of high standards and educational achievement has recently seen record breaking exam results. The proposal is being hailed as an exciting opportunity to widen the education choices for all parents and carers of children in Grantham and surrounding areas. If given the green light, Walton will accept boys from September 2018.
The academy which is Ofsted rated Good and has established outstanding practice in significant areas, strongly believes co-education will not only improve parental choice; but will also provide greater capacity to offer all students the widest possible range of subjects and thus raise standards with a balance of diverse and high quality provision.
The academy is proposing a phased approach to implementation, with Year 8 to 11 students remaining in single-sex education from September 2018.
Principal, Caroline Saxelby said: "We see co-education as a really exciting opportunity and one which will benefit education provision in the Grantham area significantly. This expansion will enable the academy to broaden the scope of our curriculum and increase opportunities for young people in the area."
"The move will, of course, reflect Walton's already well-established reputation for high expectations when it comes to behaviour, progression and achievement. We pride ourselves on providing academic and inclusive education, hence our mission statement of 'Everyone achieving their full potential'. Our core values of Excellence, Commitment, Courage and Ownership which set the culture of our high performing academy will not change. Our facilities will be enhanced to accept boys from Year 7 and we see this as a great opportunity to provide the very best secondary education to young people of both sexes."
The plan to begin the consultation was prompted by parental choice and is fully supported by Lincolnshire Local Authority. The consultation will begin on September 6th 2017 for four weeks and will take a range of forms including questionnaires, parental meetings, drop-ins for the local community and will be discussed with students through the Student Council and assemblies. The admission of boys will be supported by enhanced resources, increased teacher provision and physical developments of the present site. Boys' admission from year 7 will also coincide with enhancements to teacher and student support provision at the academy.
Debbie Clinton, acting CEO of the Diverse Academies added: "We believe Walton is uniquely positioned to respond to the call for wider choice in education in Grantham. The academy has a long, established history of high standards and expectations from all its students – whatever their starting position. As a member of the Diverse Academies Learning Partnership, Walton shares our commitment to all children and young people. Our values are routed in putting our students first, and through excellent teaching and exceptional care, we want all our students to be the best they can be."
Councillor Mrs Patricia Bradwell, executive Councillor for Children's Services, said: "With additional planned development in Grantham and schools at capacity, this is welcome news in providing more choice for parents and their children. Walton Girls' High School already provides an excellent standard of education for many students and these proposals will give even more young people the chance to learn and develop their skills."
For further information on the consultation please see website www.waltongirls.co.uk/coeducation