National Church of England Academy teacher Alex Hughes, has been celebrating receiving a prestigious accolade to become a specialist leader in World War I education, becoming one of only 15 people nationally to hold this award.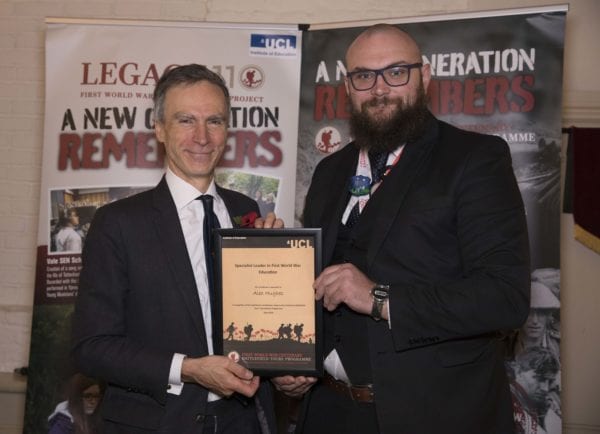 Alex is a humanities teacher, and said of the accolade: "In the summer of 2015 I was accepted to enter a programme run by University College London (UCL) to work towards this award. Over the last three years I have had to complete a number of projects to demonstrate innovation in my teaching of WWI, not only in the classroom but also whilst on curriculum trips to the battlefields.
"As a result, I have worked on developing a battlefield tour that focuses on how the Great War affected the people of Nottingham and have developed a series of lessons about the role of the USA in the conflict. Further to this, I have also assisted on other battlefield tours, including designing activities to be used by students from six different countries in the celebrations of the 100 anniversary of the battle of Amiens."
In November 2018, Alex was fully accredited by the programme and UCL, and received his award at the Tower of London. This superb achievement demonstrates his knowledge and passion for his subject, and we are delighted to be able to share this success. Alex added: "I hope to continue to develop and help others to understand such a significant part of our country's history."
Well done to Alex – we are proud to share in the success of this achievement and to have such a specialist working with our students on this important subject matter.