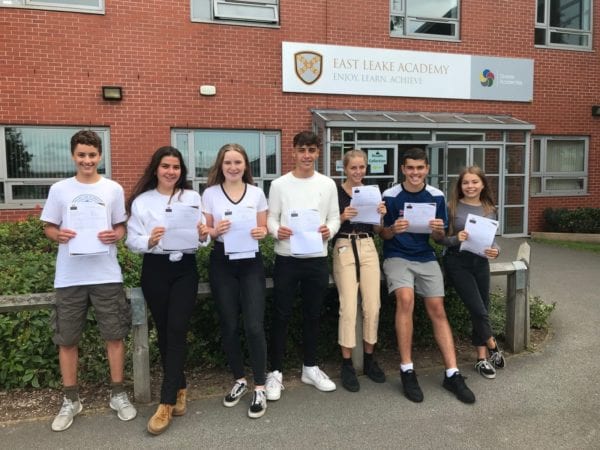 Today, students across Diverse Academies joined staff in celebrating a huge milestone in their lives, as they collected GCSE results across the Trust – which has seen an overall increase in the pass rate of students achieving five GCSEs at grade 4 or above.
Many students hoping to achieve the coveted highest grade 9 (the equivalent of an A**) were not disappointed either, as a total of 216 were awarded, with over 15% of all grades at the highest levels 9-7, and almost half of all grades a strong pass of grade 5 or above.
Chris Pickering, CEO said: "Following on from last week's fantastic A Level results, it's with great pleasure that I also have the opportunity to join in congratulating our year 11s on their GCSE success. Following the roll out of the examination reforms, which has seen the bar for attainment raised considerably, there continues to be much focus on how schools across the country have responded. Both our students and staff have met this challenge head on, and they should rightly be very proud of the achievements we see today.
"I am equally very proud of all that our students have accomplished during their time with us, beyond that which is recorded in their examination results. As a Trust, we work hard to ensure each of our students has access not only to a wide and varied curriculum, which includes the arts and sports, but also experience a wealth of enrichment beyond the classroom. It is this vitally important combination that is necessary to prepare our young people for their next steps in life, whether onto further education or an apprenticeship.
"I'd also like to thank all our staff for their commitment and passion in ensuring our students are at the heart of what we do. Each of my colleagues, whether in  teaching, learning support or a business function, make a very valuable contribution to the overall success of our students.
"I hope that many of our students will return to us this September as members of our post 16 community, taking the next steps into further education on a firm footing, and I wish them the very best for the future."
Amongst the many individual student success stories of the day were students at Queen Elizabeth's Academy. Abby Stafford achieved four grade 9s in English language, English literature, history and maths, and three grade 8s in biology, chemistry and physics. She will be going on to study English language, English literature, film studies and maths at Hucknall Sixth Form Centre. Abby said of her achievements: "I feel very, very relieved and have done better than I thought I would. I can't wait to celebrate with my mum later!" Another student celebrating was Shauna Hazard, following a strong set of results including grade 9s in biology, maths and physics, and grade 8s in art, chemistry, English language and history, meaning she will go on to study maths, further maths, physics and engineering design at NUAST.
Walton celebrated another very successful year, following Progress 8 scores which placed the academy within the top 5% of schools nationally. Overall, 73% of students achieved five GCSEs at grades 9-4. One of Walton's top performers was Jessica Ambrose who achieved eight grade 9s and one grade 8. She said: "I am ecstatic to receive such good results – I was shaking with excitement!" Zoe Mowlem celebrated achieving three grade 9s, four grade 8s and two grade 7s. On collecting such great results, she said: "I was not expecting these results, I am over the moon with what I have achieved." The outgoing head girl, Layla Stephenson, also achieved a strong set of results with three grade 9s, three grade 8s, two grade 7s and a Distinction in her BTEC performing arts course.
National Church of England Academy students also celebrated their results, with 13% of all grades at the highest levels of 9-7 and, overall, 65% of all grades between 9-4 – of which 33 grade 9s were awarded throughout the year group. Amongst the notable successes were Angela Boakye, who achieved an incredible seven grade 9s and three grade 8s; Isobel Davis with six grade 9s and four grade 8s; and Megan Marsden scored a fabulous four grade 9s, two grade 8s, three 7s and a grade 6. Angela said of her achievement: "Wow – just wow! I can't put it into words but I'm so pleased." Thomas Palin was the most-improved student at the academy, achieving two grade 8 qualifications, three grade 7s and four grade 6s, after improving by a huge 11 grades across the year.
At Retford Oaks Academy, half of students at the academy achieved five or more GCSEs at a grade 4 or above, with 68% achieving a grade 4 or above in English and 63% in maths. Lauren Emery achieved a set of outstanding results, including six grade 9s in English language, history, religious education, biology, chemistry and physics, two Distinction* grades in hospitality and media, grade 8s in German and maths, and a grade 7 in English literature. She said: "I'm really pleased with my results and I'm looking forward to coming back to the academy to join the sixth form". Another high achiever was Bebe Bierton who gained three grade 9s in English language, English literature and religious education, a grade 8 in history, a Distinction in media, a grade 7 in biology, grade 6s in art, maths and computing, and grade 5s in chemistry and physics.
Students at Tuxford Academy today celebrated a record 67 grade 9s, with over 70% achieving five or more GCSEs at a grade 4 or above, including English and maths – of which 75% achieved a grade 4 or above in in English and maths. Tuxford's Sam Barnett achieved a fantastic set of results including eight grade 9s in biology, engineering, English language, English literature, geography, maths, physics and religious studies, a grade 8 in chemistry and a grade 7 in Spanish. He said: "I'm very pleased with my results. It's been hard work but it's worth it now. I will be staying on at Tuxford Academy Post 16 Centre to study physics, maths and either further maths or chemistry." Another high achiever was Jacob Macpherson, who gained five grade 9s in biology, chemistry, English language, history and physics, two grade 8s in computer science and maths, and three grade 7s in English literature, French and psychology. Jacob plans to study A Levels in politics, history and economics and said: "I'm speechless. I am happy with my grades and thankful for all my teachers' efforts to push me further and not give in."
At East Leake Academy, 80% of students achieved a grade 4 or above in maths and over 84% in English. 21% of the academy's grades were at the highest levels of 9-7, with 66% of students achieving five or more GCSEs including English and maths. Some of the outstanding individual results included Isaac Baguley who was the academy's top performing student with grade 9s in all eight of his subjects, plus the top mark of Distinction* in music. Isaac said: "I don't know what to say, I thought my eyes were not working properly at first! I am so thrilled with my results and looking forward to staying on in the sixth form." Another high performer, Erin Doherty, achieved five grade 9s in triple science, geography and maths, plus two grade 8s in English literature and French. Year 11 student Jack Osborne also achieved superb results, with six grade 9s in physics, chemistry, history, maths and English, plus a grade 8 in biology and a 7 in French. Jack came away with the top grade of Distinction* for music. He commented: "I'm over the moon with my results and thankful to all my teachers for their support."
And finally, overall attainment at The Holgate Academy has risen steadily from 2018's results, with 164 grades awarded at the highest levels of 9-7. Christy Morgan gained superb results of two grade 9s, three grade 8s, a Distinction*, two grade 7s, one A, and two grade 6s. She said she was both "thrilled and overwhelmed" on receiving her results and will be continuing onto Hucknall Sixth Form Centre to study French, maths, physics and art. Tiffany Shelton also performed particularly well and achieved top marks of three grade 9s, two grade 8s, three grade 7s, one grade 6, one Distinction* and one A grade. Another high achiever was Fraser Street with one grade 9, one Distinction*, one grade 8, three 7s and three 6s. Fraser will also be heading to Hucknall Sixth Form Centre to take his A Levels. Fraser said: "I am so pleased with my results and really looking forward to starting sixth form in September."